Just a short one this week...
I've got a lot on my mind, too much going on in the studio, and almost no actual drive to follow through this week, it seems...but I will not bore you with my woes! I have two brand new pieces that I want to share- "Inner Bird 2" and the Capricorn Zodiac Monster!
First, "Inner Bird 2"- the second installment of my inner portrait series. This particular lady prefers the hot dry air of this strange landscape. She is seen here in her weird bird mask, baking under a red sunset. This is the original painting (9" x 12" acrylic on a canvas sheet) and she is up for auction on eBay at the link below her picture: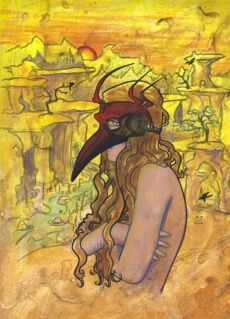 "Inner Bird 2" original pin up raven fantasy art
The other new original is the latest piece in my Zodiac Monster series- "Capricorn"! I myself am a Capricorn, and if I would feel okay about keeping this little dude to myself, I totally would! But that just doesn't seem right. So, he is up for auction at the link below- all the details of the piece, and more pictures as well!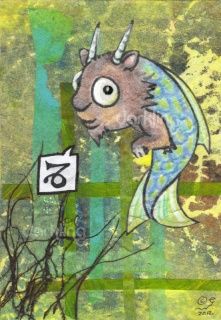 "Capricorn Zodiac Monster" original mixed media cartoon art
And there are a bunch of other originals and prints listed for auction (doing a little spring cleaning, you can get a really great deal on my originals right now!!) Check
HERE
!
Oh, one more thing to mention before I depart into the recesses of my studio- Dorkling prints are in! I know I should just reserve this information for my other blog, but since I am my own boss and make my own rules, you all must suffer the consequences of my occasional need to shamelessly self promote. ANYHOO...There are 6 different Dorkling comic prints up in my
zombietoes etsy shop
, along with sets of all 6 (and my "Fowl Behavior" comic book!)...If you would be so kind as to pop over there and take a peek, get a giggle, mayhaps support this poor silly fool with some cash (dont worry, I will mail you something in return!) I would be eternally grateful!! Greatful? How do you spell that? Gah! I am going to bed.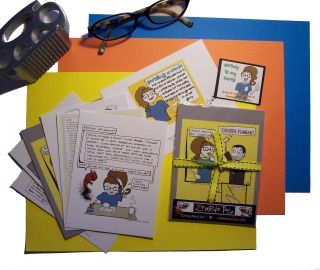 Dorkling Prints and Comic Books through zombietoes!
xo!
Em
Visit my website- tons of images available as art prints and posters:
darklingtreasures.com
Loads of fun stuff- T shirts, stickers, mugs, stationery, bags, buttons, and more in my
Zazzle Shop
!